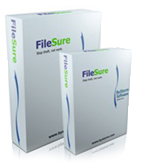 FileSure for SharePoint operates almost exclusively outside of SharePoint so your log processing, viewing, reporting doesn't impact SharePoint performance! FileSure allows you to centrally direct SharePoint to log document access activity precisely what you desire logged.
Since FileSure offloads your audit logs from SharePoint and encrypts them into monthly files for easy backup/restore. You log data is protected, unalterable, and available for high-performance searching, viewing, and reporting! And with FileSure, your log-data is actually readable in plain text and you can filter to view exactly what you need, precisely when you need it.
Feature List:

Audit
Control what gets audited via policy - such as views, moves, copies, check-out/in, updates, deletes, schema changes, security changes (roles, permissions, group changes, etc).
Leverage full-function thick client for all administration and viewing/reporting and utilize web-part for non-privileged viewing in SharePoint
View logs in readable text instead of the cryptic data that native-SharePoint writes in the event, site, and item ID files as well as the event data fields.
Archive log data in an encrypted data store, not open access SQL tables. FileSure generates monthly files that can be included in existing file/folder backups and easily restored for searching, viewing, and reporting
Send log events to the Windows logs or Syslog for SIEM or other monitoring solutions to collect and process.
Run reports in real time of schedule reports to be emailed or placed in a folder.
Protect
Control who can alter audit policy and view log data.
Centrally collect, archive, and backup all log data.
Protect and encrypt log data outside of SharePoint instead of allowing it to be kept in open SharePoint tables.
Optionally write the log data to the Windows event log or Syslog.
Avoid unintended log data purges with native-SharePoint log purging introduce in SharePoint 2010.

Comply
Know who is accessing customer, patient, and HR data.
Watch company trade secrets and intellectual property closely.
Ensure compliance with HIPAA, 21-CFR-11, NERC-CIP, PCI, SOX, etc.
Easily retain and produce any log data at any time for your own needs and for auditors.
System Requirements:
SharePoint version support (FileSure web-part and SharePoint bits)
SharePoint 2010 (Standard, Foundation, and Enterprise)
FileSure Administrative Console (runs independent of SharePoint):
Windows XP, Windows 2003, Windows Vista, Windows 2008 or Windows 7, both 32 bit and 64 bit versions are supported.
1 GB of RAM
1 GB of free hard disk space
Microsoft .NET Framework version 3.5
A network connection with the TCP port 9090 open and unblocked in any Firewall
Processing Core (runs independent of SharePoint):
1 GB of RAM
10 GB of free hard disk space
Microsoft .NET Framework version 3.5
A network connection with the TCP port 9090 open and unblocked in any Firewall